Aaron M. O' Brien, MD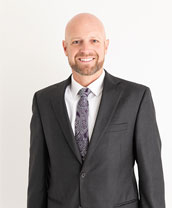 Meet Aaron M. O'Brien, MD
Orthopedic Foot & Ankle Surgeon
As an orthopedic foot & ankle surgeon, my primary focus is to help patients improve their health and get back to their desired activities. I listen to my patients and understand their goals so we can develop a personalized plan. Not all orthopedic problems require surgery and most will improve with nonsurgical treatments.
I specialize in treating foot and ankle problems among all age groups in addition to all general orthopedic conditions. I have trained under world-renowned orthopedic surgeons during my training. With this training, I bring to Southern Utah a new approach to treating the lower extremity with a better understanding of the entire body, as well as medical conditions that may affect patients' overall health.
I was born and raised in Utah. I grew up spending most of my time in the outdoors enjoying the beauty this state has to offer. I want all of my patients to have the same opportunity by improving their health and helping them return to an active lifestyle.
Education
2014 – 2015
Cleveland Clinic Foot and Ankle Surgery Fellowship;
Cleveland, Ohio
One year fellowship in foot and ankle surgery (ends July 2015)
2009 – 2014
University of Texas Health Science Center San Antonio;
San Antonio, Texas
Post-Graduate Residency Training in Orthopedic Surgery;
2005 – 2009
University of Iowa Carver College of Medicine;
Iowa City, Iowa
M.D. May 2009
2005
Utah Valley University;
Orem, Utah
B.S. in Behavioral Science, summa cum laude; April 2005
Training
Orthopedic Residency:

University of Texas Health Science Center at San Antonio, San Antonio, TX

Foot & Ankle Surgery Fellowship:

The Cleveland Clinic, Cleveland, OH
Professional Affiliations
American Academy of Orthopedic Surgeons
American Orthopedic Foot and Ankle Society
Utah State Orthopedic Society
Alamo Orthopedic Society
Board Certification
America Board of Orthopedic Surgery: Board Certified
Click here for a more detailed look at my CV
Coral Desert Orthopedics
East, 1490 Foremaster Dr #150
St George, UT 84790

(435) 628-9393

(435) 628-9382